Carolina Law Welcomes Associate Dean for Administration Nick Goettsch
February 22, 2018
UNC School of Law is pleased to welcome Nick Goettsch in the role of associate dean for administration, where he is responsible for overseeing budget planning and financial management, facilities, human resources, information technology and other operational issues at the school.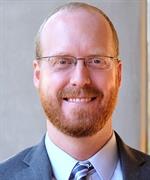 Goettsch joins Carolina Law from Elizabeth City State University, where he served as the university's budget director. There, he and his team of budget and systems analysts worked with all areas of the university to enhance communication, collaboration and compliance with policies and best practices. Committed to transparency, Goettsch also implemented an internal general fund budget development process to advance the university's long-term strategic plan and budget reporting software to improve distribution of budget availability reports.
"We are thrilled to have Nick join our staff," says Martin H. Brinkley '92, dean and Arch T. Allen Distinguished Professor of Law at UNC School of Law. "He has a tremendous amount of experience with public universities that I know will serve Carolina Law well. I look forward to working with Nick and his team to improve systems we have in place and to plan for the school's future."
Goettsch previously served as a budget analyst for the North Carolina Office of State Budget and Management from 2013 to 2016, where he was a lead analyst for the UNC System, UNC constituent institutions, the Department of Public Instruction and the Race to the Top Grant.
Goettsch received bachelor's degrees in journalism and mass communication and public policy analysis from the University of North Carolina at Chapel Hill before earning his master's degree in public administration from North Carolina State University.
"The mission and work of the law school really resonate with what I try to stand for," says Goettsch. "I am truly excited to work with the staff, faculty and students to move the law school forward purposefully and strategically."
-February 22, 2018