A Decade After the 2008 Financial Crisis, Banking Center Conference Looks Back
August 3, 2018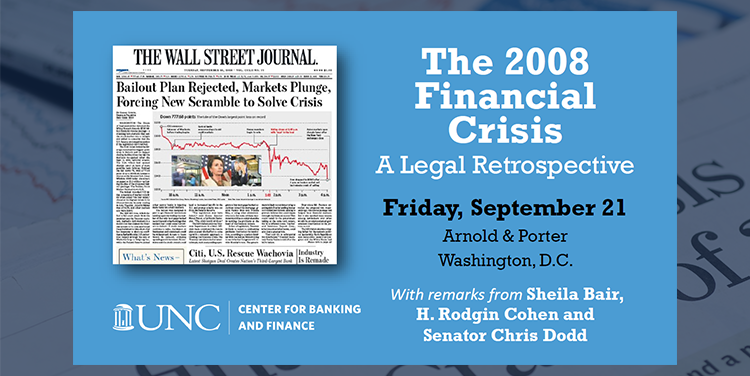 On the 10th anniversary of the financial crisis, UNC School of Law's Center for Banking and Finance is hosting an historic conference in Washington, D.C. The September 21 program will highlight the role attorneys played in crafting creative solutions to the legal and policy issues presented during September 2008.
"The 2008 Financial Crisis: A Legal Retrospective" will bring many of the lawyers who played leading roles in Congress, at the agencies, and in private law firms together to reflect on the events of that fateful month. Senator Chris Dodd, then-FDIC Chair Sheila Bair and H. Rodgin Cohen will speak.
Burton Craige Distinguished Professor Lissa Broome, the director of the Center for Banking and Finance, says this will be one of the most significant events the center has hosted in its 18-year existence.
"The opportunity to hear from these attorneys about their experiences will help to capture an untold history," says Broome. "Many of the principals in the agencies have written their own books, but we haven't yet heard from their advisors about the novel and creative legal solutions that were crafted to deal with a financial crisis that was developing and growing each hour of September 2008. This may be the one and only time this group is assembled together to reflect on the events of September 2008. Anyone who is interested in history – and who doesn't want to repeat it – will want to be there."
The program will be held at the offices of Arnold & Porter, 601 Massachusetts Ave NW, Washington, D.C. The early bird registration fee ends on August 10 ($175 through August 10; $250 afterwards).
A portion of the registration fees will fund travel grants for up to 25 UNC School of Law students wishing to attend the conference.
"It is important that our students appreciate this time in our nation's economic history and hear the stories of how lawyers participated in the efforts to ensure our economy survived even as it teetered near the abyss," says Broome.
The conference was planned with assistance from Eric Spitler '85, with FINRA and previously the director of the Office of Legislative Affairs of the FDIC (co-director of the program), Dave Freeman with Arnold & Porter, Beth DeSimone with CenterState Bank, N.A., Gene Katz, retired from Wells Fargo & Co., and Michael Shumaker '07 with SunTrust Banks, Inc.
Attendees may earn up to 6.5 hours of CLE credit. Learn more about the conference agenda, speakers and registration details.
-August 3, 2018