Lolly Gasaway: Leader, Visionary, Donor
May 28, 2019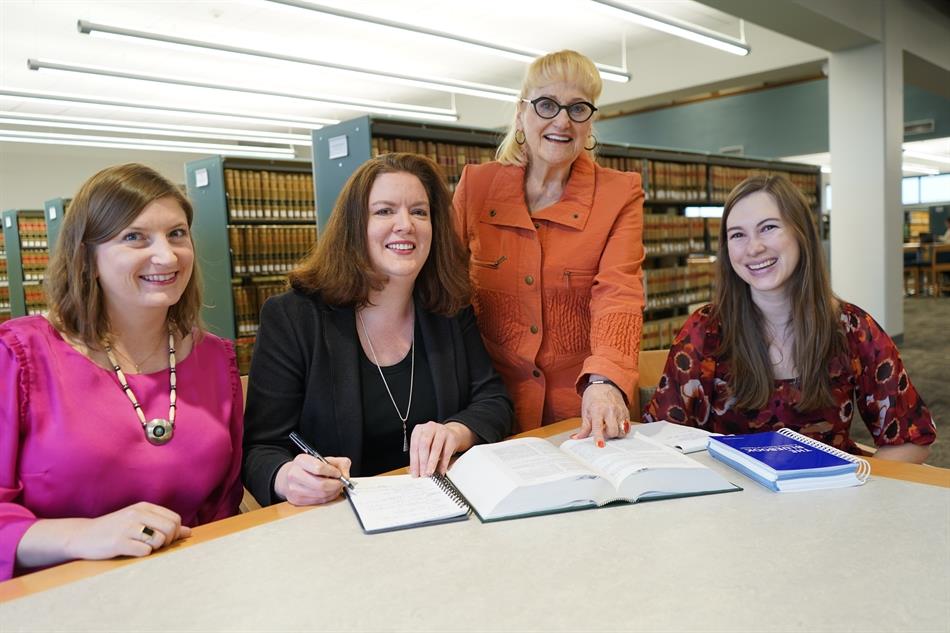 Lolly Gasaway with recipients of the Laura N. Gasaway Graduate Assistantship. From left, Emily Roscoe, a Ph.D. student in the UNC School of Information and Library Science, Sara Farnsworth 3L, Gasaway, and Jasmine Plott 3L.
This article originally appeared in the Spring/Summer 2019 issue of Carolina Law magazine.
Laura "Lolly" Gasaway's career, which spans more than five decades, overflows with accolades and achievements. Yet instead of focusing on the past, she continues to keep her eyes focused on the present and the future.
Gasaway, Paul B. Eaton Distinguished Professor at Law, emerita, served 21 years as director of Carolina Law's Kathrine R. Everett Law Library and four years as associate dean for academic affairs before becoming a full-time law teacher. Looking to the future of the law library and wishing to support its continued excellence, Gasaway recently made a generous unrestricted testamentary gift to the law library.
To recognize that gift and the countless ways Gasaway's energy, enthusiastic leadership, and scholarship have inspired generations of students, in 2018 the Laura N. Gasaway Graduate Assistantship was named for her.
"When I was the law library director, I had the idea for this graduate assistantship program because we had a great law school and the number one ranked library school in the country," says Gasaway. "I thought we should take advantage of that and provide skills and experience for those who wanted to be law librarians."The graduate assistantship, created in the mid 1990's, gives on-the-ground experience and a stipend to students who are completing their graduate study in law or librarianship, preparing them for careers in law librarianship.
Sara Farnsworth '19, who began the graduate assistantship in July 2018, says the assistantship was an important factor in her decision to attend Carolina Law. "I'm grateful for the opportunity to take the master's in library science degree that I had already earned, apply the legal learning I am obtaining at Carolina Law and integrate those skills and talents in legal research," she says. "The assistantship also put me on track to graduate law school debt-free."
"Our graduate assistants learn how to provide reference service: advice to researchers who have reached a difficult point in the research," says Anne Klinefelter, who succeeded Gasaway as law library director. "Graduate assistants (who ultimately earn both a J.D. degree and a master's degree in library or information science) are able to develop skills and professional level work experience that makes them likely to find and succeed in their first job after school."
At the luncheon to honor this naming, former students and other colleagues returned to Chapel Hill to recognize Gasaway's influence on their careers. "Many of them talked about how Lolly encouraged them to go beyond the traditional roles of librarians to take on management, technology and scholarly roles in the law school and teaching," says Klinefelter. "They often talked about how they may not have ventured into these adjacent areas without Lolly. She certainly encouraged me to do things that were beyond my imagination."
Gasaway has been a creative force throughout her years at Carolina Law. She says that she loves how her career combines creativity, the ability to work with faculty and to teach, while instituting new technologies at Carolina Law. She exponentially expanded the digital footprint of the library's resources.
Klinefelter emphasizes the ongoing importance of Gasaway's vision. "As a law professor, scholar, law library director, and someone who has visited many law schools for ABA inspections, Lolly recognizes how important the law library is to the success of the law school," says Klinefelter.
Gasaway agrees. "It's critical to me that the UNC law library has continuing funding," she says. "I wanted to give the money unrestricted, to give flexibility to whomever is the director of the library. Those of us who are fortunate enough to be able to give back need to. Higher education is a place that is in great need and we need to help continue the excellence of Carolina Law."
— Michele Lynn
-May 28, 2019