The Evolution of a Faculty-Student Mentorship
May 28, 2019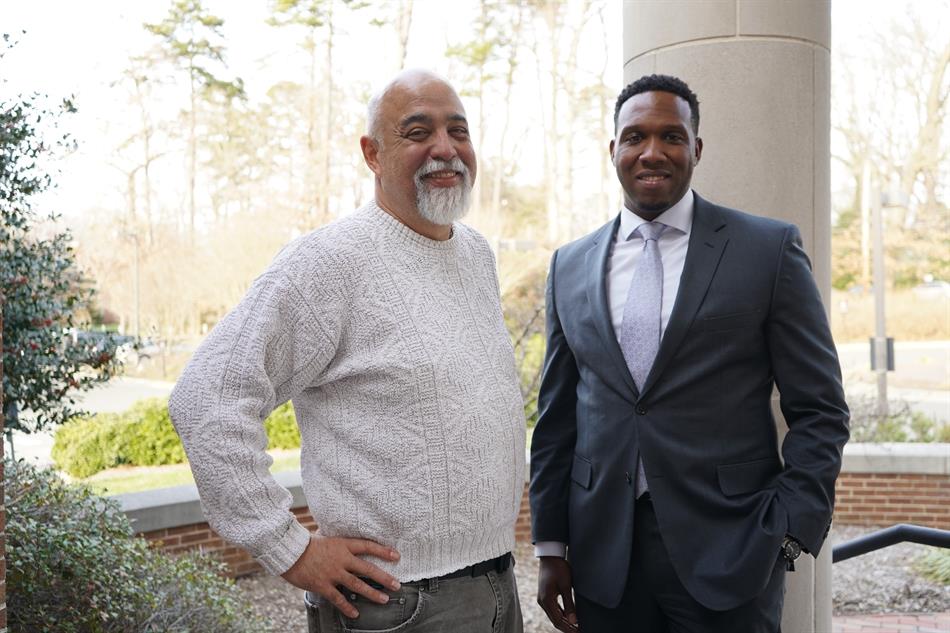 This article originally appeared in the Spring/Summer 2019 issue of Carolina Law magazine.
Following law school, Lawrence Cameron '10 started his career as an assistant district attorney in Wake County, North Carolina. He went on to serve as an assistant U.S. attorney at the U.S. Attorney's Office for the Eastern District of North Carolina where he prosecuted money laundering, narcotics trafficking, and public corruption cases. He is now an associate at McGuireWoods in Raleigh.
Professor Richard E. Myers II '98 had similar path. After clerking for the Honorable David Sentelle '68 on the U.S. Court of Appeals for the D.C. Circuit, Myers entered private practice as a litigator for O'Melveny & Myers, LLP prosecuting white collar crimes. He then became an assistant U.S. attorney in the Central District of California and transferred to the Eastern District of North Carolina. Myers then joined the Carolina Law faculty in 2004.
Cameron and Myers recently reunited at Carolina Law and discussed how their roles have evolved from the early days as a student and a faculty member.
How did Professor Myers influence you as a student and what kind of impact has it had on your career?
CAMERON: Professor Myers had a tremendous impact on me as a student and as a practicing attorney. Coming into law school, I wanted to help minorities struggling with impact of the criminal justice system and assumed becoming a criminal defense attorney was the best way to make an impact. Professor Meyers challenged that view and opened up my mind to the concept of being a prosecutor. He taught me about the tremendous amount of discretion that prosecutors have and the importance of diversity in the exercise of that discretion. My first job out of law school would not have been as a state prosecutor in the Wake County District Attorney's Office but for my relationship with Professor Myers.
How important is the dynamic between students and faculty?
PROFESSOR MYERS: The students are the reason we exist. Teaching the next generation of lawyers is incredibly satisfying. On a personal level, investing energy in people who want to make the world a better place and keep us committed to the rule of law is the source of great challenges and much joy. The students keep us thinking about the future, and they will go on to change the world. Lawrence was always someone that I knew would make a difference. His personal experiences observing people from his life dealing with the criminal justice system forged a commitment to doing justice. When he was here, we had the opportunity to talk about where and how he could make the most impact. I'm very proud to have played a tiny part in Lawrence's success.
You both have had similar career paths. How did Professor Myers' experience influence your career path, and what is your relationship like today?
CAMERON: Professor Myers is a big reason why I began my career as a prosecutor. When I began to consider leaving the DA's office to become an Assistant U.S. Attorney, I sought out Professor Myers' advice due to his time as a federal prosecutor. Throughout my career, Professor Myers has been someone that I can always go to whether it be with questions on how to handle a particular evidentiary issue at trial, or how to balance my responsibilities as a husband and father with my ambitions as a lawyer. I consider him to be a mentor and a friend.
As an alumnus, which professor influenced you and why?
PROFESSOR MYERS: Lou Bilionis and Ken Broun were important mentors for me. Lou taught me Criminal Law and Constitutional Law, and his brilliance at the podium inspired me to learn, and ultimately to teach. He dragged me into his office at the end of my first year of law school to explain why I was going to apply for a judicial clerkship, notwithstanding my reservations. It changed my life forever. I was Ken Broun's research assistant and worked on his Brandis and Broun treatise on North Carolina evidence. I went on to teach Evidence, and am now a co-author on that same treatise. He has been a wonderful mentor and an inspiration for a life well-lived in the law. My mentors have played an important role at every step, and I strive to pay it forward.
-May 28, 2019