UNC School of Law Receives a $1.53 Million Gift for New Entrepreneurship Program
June 18, 2018
What does it take to be an entrepreneur? It takes drive, ambition, patience and persistence to identify a need and create a business to fill that need. It also takes access to legal resources.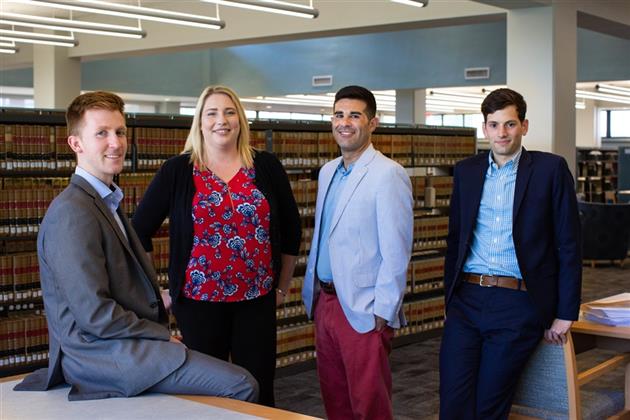 The William R. Kenan, Jr. Charitable Trust recognizes that early-stage legal counsel is critical to the success of new for-profit and nonprofit ventures. To ensure that these ventures have access to legal counsel, the Kenan Trust has made a $1.53 million gift to support the establishment of a clinical entrepreneurship program at the University of North Carolina at Chapel Hill's School of Law. The program will provide rigorous, hands-on training for the next generation of public-spirited lawyers while also filling gaps in North Carolina's entrepreneurship ecosystem. In addition to the Kenan Trust, the North Carolina General Assembly has appropriated $465,000 in recurring funds to support the program.
"We are thrilled and inspired by the investment in the education of Carolina students that the Kenan Trust and the people of North Carolina, through their representatives, are making," said Martin H. Brinkley '92, dean and Arch T. Allen Distinguished Professor at UNC School of Law. "Clinical education geared toward organizational clients, and the business and social entrepreneurs who establish them, is important to large numbers of our students. The new entrepreneurship program will help Carolina Law embrace its mission by fulfilling dual goals of teaching and service. With this generous gift from the Kenan Trust and additional support from the state, we will be able to provide an invaluable experiential learning opportunity for approximately 30 students a year while serving several times that number of for-profit and nonprofit entrepreneurial ventures each year."
"Clinical education geared to organizational clients, and the business and social entrepreneurs who establish them, is important to large numbers of our students."

Dean Martin H. Brinkley '92
The new program will serve business and social enterprise entrepreneurs on the campuses of UNC-Chapel Hill and North Carolina State University, in partnership with UNC Kenan-Flagler Business School, NC State University's Poole College of Management, as well as the innovation and entrepreneurship infrastructures on both campuses. The UNC School of Law also intends to identify one or more economic incubators in underserved parts of North Carolina that the entrepreneurship program can support.
In addition to providing educational opportunities for law students, the program will fill the one consistent gap across all startup settings: a lack of access to legal counsel. Legal advice for early-stage businesses and nonprofits, which typically have limited resources, is hard to find. In an effort to control costs, too many entrepreneurs never consult a lawyer and come to regret it. Failing to consult competent counsel exposes a new business or nonprofit organization to a variety of risks. For clients of the program these risks will be lowered, giving them a greater chance of thriving and expanding. In the end, students, startup businesses, communities and the state's economy will end up benefiting.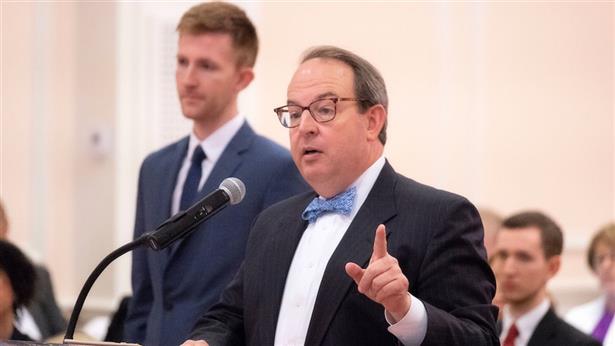 The state recognized the benefits of the proposed program, appreciated the Kenan Trust gift and chose to show its support through a $465,000 appropriation. "Connecting the world-class legal community at Carolina with business professionals in the startup economy is a win-win approach to higher education that will prepare law students to succeed and provide valuable legal resources for emerging companies in our state's rapidly growing economy," said House Speaker Tim Moore.
The program is expected to kick off in the 2019-2020 academic year. An official name will be determined during the planning process with input from current students.
"The Kenan Trust has always focused on the needs of the communities it serves and education is the foundation," said Douglas Zinn, executive director of the William R. Kenan Jr. Charitable Trust. "We recognize that student education doesn't just happen in the classroom and we are excited to support the entrepreneurship program that will train law students while strengthening North Carolina communities and the state's economy."
Funding will support three interwoven legal clinics at UNC School of Law: a for-profit ventures clinic, an intellectual property clinic and Carolina Law's existing Community Development Law Clinic, which is a longstanding, highly successful nonprofit social entrepreneurship clinic. Each clinic, supervised by a full-time member of the law school faculty, will train eight to 10 law students per semester. Students will counsel business founders on the advantages and disadvantages of various business entity structures, form appropriate entities, draft organizational documents, capture and license intellectual property assets, and seek tax-exempt status for community based nonprofit organizations.
North Carolina is consistently ranked as one of the nation's top five places to start a new business. Because of the rich and thriving entrepreneurial culture of the Research Triangle Park area of North Carolina and the business schools and entrepreneurial initiatives at local universities, the institute will serve a pipeline of clients from potential partners across the state.
"This gift and challenge from the Kenan Charitable Trust will catapult UNC School of Law onto the cutting edge of legal education. From my own experience representing clients in mergers and acquisitions and startups, there is a great need for legal advice at the earliest stages," said Larry Robbins '79, partner at Wyrick Robbins Yates & Ponton LLP. "My hat is off to the Kenan Trust and the North Carolina General Assembly for recognizing this need for an entrepreneurship institute and for funding it."
The gift from the Kenan Trust supports For All Kind: the Campaign for Carolina, the most ambitious fundraising campaign in the University's history. The gift also reinforces UNC School of Law's commitment to train lawyer-leaders to address the issues and questions of today's dynamic, ever-evolving industries, particularly in areas of growth and influence in North Carolina and beyond.
About the University of North Carolina at Chapel Hill
The University of North Carolina at Chapel Hill, the nation's first public university, is a global higher education leader known for innovative teaching, research and public service. A member of the prestigious Association of American Universities, Carolina regularly ranks as the best value for academic quality in U.S. public higher education. Now in its third century, the University offers 74 bachelor's, 104 master's, 65 doctorate and seven professional degree programs through 14 schools including the College of Arts & Sciences. Every day, faculty, staff and students shape their teaching, research and public service to meet North Carolina's most pressing needs in every region and all 100 counties. Carolina's nearly 330,000 alumni live in all 50 states, the District of Columbia, US Territories and 161 countries. Over 178,000 live in North Carolina.