Pro Bono Program Announces 2019 Publico Awards
April 11, 2019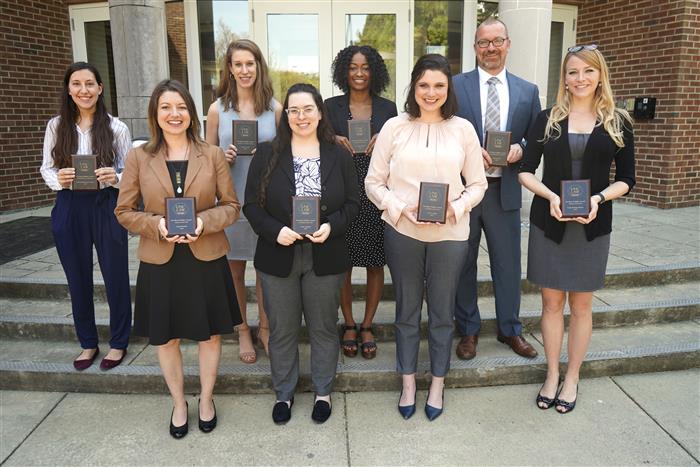 The board of the UNC School of Law Pro Bono Program awarded the 2019 recipients of the Pro Bono Publico Awards at the annual Pro Bono Celebration Thursday, April 11. Graduating students with more than 75 pro bono hours were recognized, as well as the Christian Legal Society, which received UNC-Chapel Hill's Robert E. Bryan Public Service Award.
As part of the ceremony, Dean Martin H. Brinkley '92 addressed attendees and congratulated the Class of 2019 for reaching 100 percent participation in pro bono projects. This year's award recipients included:
Sylvia K. Novinsky Award – Lauren Toole 3L
3L Student of the Year – Lashieka Hardin 3L
2L Student of the Year – Grace Lempp 2L
1L Student of the Year – Nicole Angelica 1L
Group Pro Bono Project of the Year – Environmental Law Project, accepted on behalf of ELP by Miranda Goot 2L
Faculty Member of the Year – Lewis Moore "Luke" Everett '08, Clinical Associate Professor of Law
Alumnae of the Year – Emily Burke '14 and Leigh Wicclair '11
Learn more about the award winners. Award nominations may be submitted by alumni, legal organizations, or any member of the Carolina Law community.
-April 11, 2019