Five Students Selected for Summer Study Abroad in Tübingen, Germany
July 24, 2019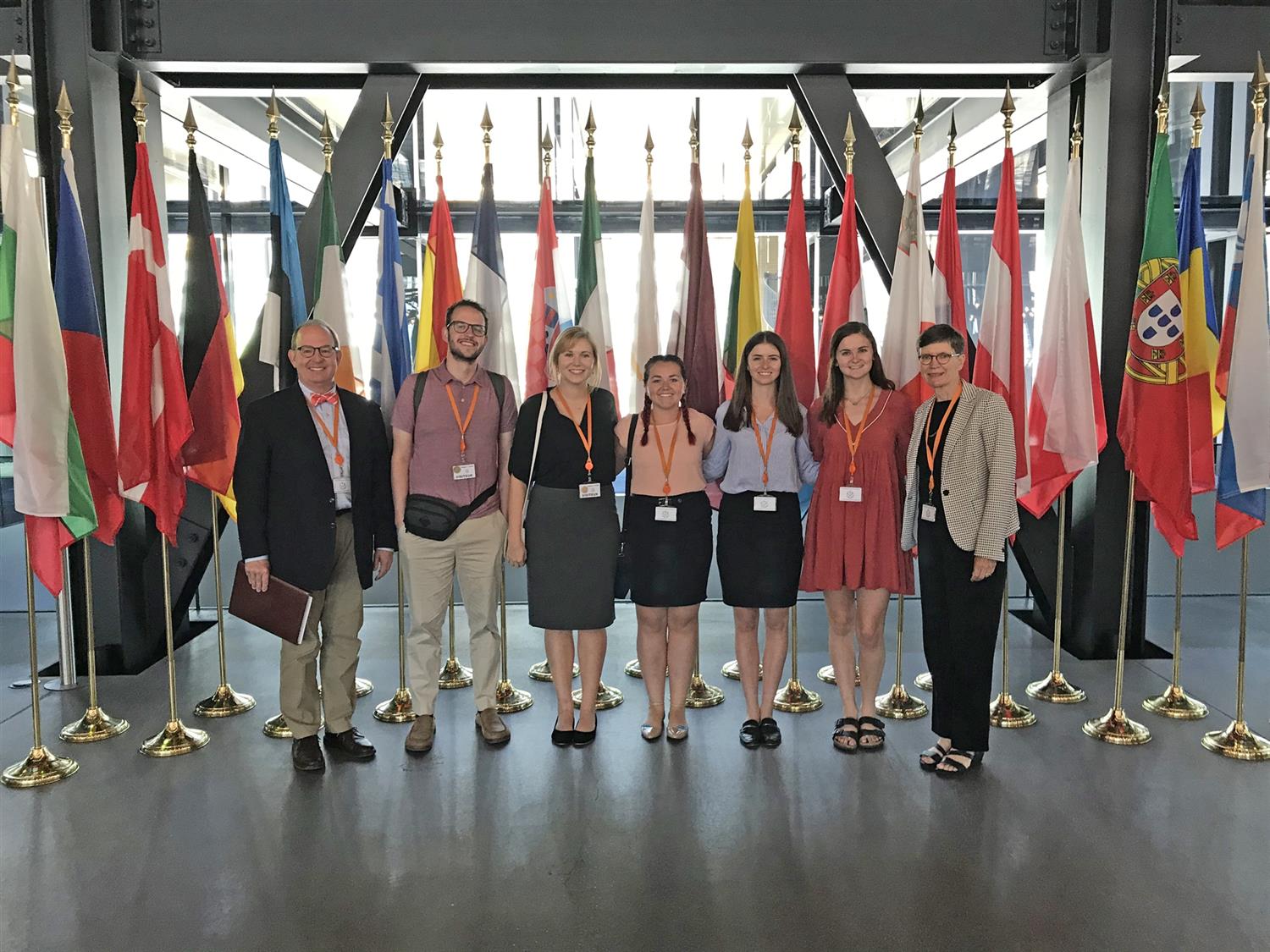 Many law students spend their summers working at a firm or doing research with a professor, but five students were selected to spend two weeks in Tübingen, Germany, with UNC School of Law Dean Martin H. Brinkley '92, Professor Lissa L. Broome and Professor John F. Coyle as part of a new study abroad program.
Through research workshops and courses, the Tübingen-Chapel Hill Law Program facilitates trans-Atlantic collaboration among students through a strong teaching component designed to promote mutual understanding of each other's legal systems and cultures.
Anna Huffman 2L, M-K McKinney 2L, Shay Potter 2L, Andrew Wisniewsky 2L and Carleigh Zeman 2L visited the Eberhard Karls University Faculty of Law July 1-12 to take courses—taught in English—alongside German students. They studied issues relating to corporate law, antitrust, and banking law, and participated in excursions to institutions like the Court of Justice of the European Union in Luxembourg and the European Central Bank headquarters in Frankfurt. The UNC students also had the opportunity to explain U.S. law and legal institutions to German law students.
Brinkley taught Law and Legal Institutions of the U.S. as well as U.S. Competition Law and participated in a symposium on competition law, Coyle taught U.S. Corporation Law, and Broome participated in a symposium reflecting on the financial crisis.
After the program ended, Huffman worked for two weeks at international law firm White & Case in Frankfurt, and Zeman stayed another month in Stuttgart for a paid internship with Gleiss Lutz, a top-tier global law firm, working in their central office with more than 100 lawyers.
"I knew when I applied to Carolina Law that I wanted to go into international law, so this internship has been right up my alley," says Zeman. "I was interested in pursuing a career in international arbitration before I came to Gleiss Lutz and this internship has given me a lot of helpful experience and insight into international arbitral tribunals and how they operate."
Zeman has reviewed the German attorneys' English publications including submissions for law journals, legal dictionaries and treatises.
"My biggest project has been working on an ongoing international arbitration dispute," says Zeman. "All of the proceedings, rules and precedent are in English, so it helps to have a native speaker on hand."
Professor Jonas Monast, director of Carolina Law's environmental law center, also visited Tübingen in June to cohost a workshop on energy transitions in federal legal systems with scholars from Germany, Switzerland, Austria, South Africa, Australia and the U.S.
"International partnerships provide law students with the opportunity to develop a global mindset," says Stephanie Schantz, director of global opportunities at Carolina Law. "Students learn about legal issues and institutions that are different than what they study in law school."
The UNC Center for Banking and Finance, of which Broome serves as director, offered each student a stipend to defray the costs of travel and housing. One of those stipends was funded through an endowment for the center established by the law firm Williams Mullen, which was supplemented by a personal gift from Williams Mullen attorney Camden Webb '95. Students will speak about their Tübingen experience at the August meeting of the center's board of directors.
-July 24, 2019